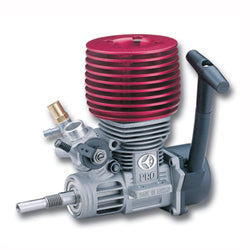 CAR ENGINE Parts ,PRO-18BX 9442
CAR ENGINE Parts ,PRO-18BX 9442
Specification

| | |
| --- | --- |
| Displacement(c.c. / cu.in.) | 2.97 c.c. / .181 cu.in.  |
| Bore(mm / in.) | 16.20 mm / 0.638 in.  |
| Stroke(mm / in.) | 14.4 mm / 0.567 in.  |
| Practical R.P.M.(R.P.M.) | 3,000 ~ 32,000 rpm  |
| Output(BHP/RPM) | 0.80 BHP / 31,000 RPM  |
| Weight(g/oz) | 248 g / 8.74 oz  |
Introduction:
The new Pro-28BX engine was designed to achieve the easiest operation and max performance. With its big block engine, the Pro-28BX delivers much more horse-power more than the first generation.28 engine, and is now considered one of the best choices for any of the outlaw races in its class.

All PRO series engines are manufactured by automated computer-controlled machinery, using the highest quality materials and state-of-the-art CNC manufacturing techniques to deliver a powerplant that looks and performs better. Precision mixture control carburetor makes adjustments simple, the crankshaft is lightened, and balanced to achieve a smoother and more efficient fuel mixture. 

The Pro-28BX is equipped with a built-in recoil starting ("X" type) system for easy and quick start.
1. PRO-18BX engine x 1 EA 2. Carburetor Assembly x 1 EA 3. Instructional manual x 1 
---
We Also Recommend