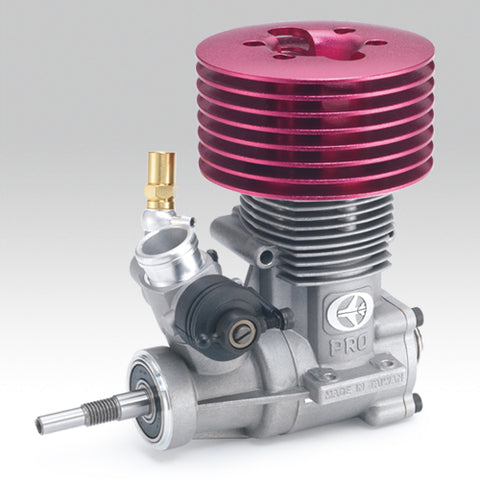 CAR ENGINE Parts PRO-50BK 9445
CAR ENGINE PRO-50BK 9445
Specification

| | |
| --- | --- |
| Displacement(c.c. / cu.in.) | 8.19 c.c. / .500 cu.in.  |
| Bore(mm / in.) | 22.5 mm / 0.886 in.  |
| Stroke(mm / in.) | 20.6 mm / 0.811 in.  |
| Practical R.P.M.(R.P.M.) | 3,000 ~ 25,000 rpm  |
| Output(BHP/RPM) | 2.60 BHP / 22,000 RPM  |
| Weight(g/oz) | 475 g / 16.75 oz  |
Content
1. PRO-50BK engine x 1 EA 
2. Carburetor Assembly x 1 EA 
3. Instructional manual x 1 EA 


Introduction
Designed to achieve the easiest operation and max performance over & over, the new PRO-50BK delivers an awesome raw power & durability ! The Pro-50BK is the latest in the car engine family and it shows! Over-sized heat sink head, a revamped carb and a very tough starting system make the engine the ideal power plant on all monster trucks. Its new webbed reinforced compact crankcase brings on added wear resistance and delivers effective heat dispersion for longer runs.
All PRO series engines are manufactured by automated computer-controlled machinery, using the highest quality materials and state-of-the-art CNC manufacturing techniques to deliver a powerplant that looks and performs better. Precision mixture control carburetor makes adjustments simple, the crankshaft is lightened, and balanced to achieve a smoother and more efficient fuel mixture.
The Pro-50BK is equipped with an built-in hexagonal ("K" type) starter for easy and quick start.
Just drop it in, bolt it on, and get ready for some seriously fast runs and jaw-breaking wheelies !
---
We Also Recommend