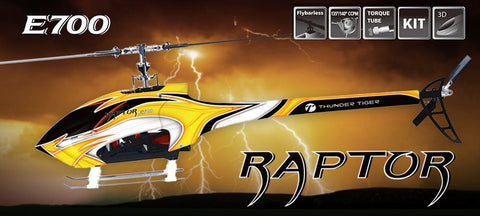 Raptor E700 V2 Flybarless Elektro Kit 4761-K30
The E700 is the development of the proven THUNDER TIGER "E" series and has been optimized by hundreds of test flights up to the absolute maximum by no less than the IRCHA champion Nick Maxwell. !! ".
The secret of the E700 is basically the most logical thing in the world, but still unique in the RC helicopter scene. The E700 has been successfully developed from the base to have the undisputed best performance-to-weight ratio in the 700 Series. ... sounds simple, is simple and THUNDERTIGER has consistently implemented it with the E700. The lighter in weight, the easier it is to equip an RC helicopter with brachial power. A 52mm 530KV brushless motor is enough to leave this high-performance mechanics in a breathtaking ROCK style. The result: a "crispy" flight characteristic in all situations, which makes the heart of every ambitious heli-pilot racing furiously. "TickTocks" ... flashy dynamic, simple, hundredfold ... merciless ...! The E700 offers the pilots unlimited possibilities.

The enclosed crash kit contains many useful parts that can break in a crash and minimize the costs if something goes wrong.
4.71 Speed Gear with Reinforced Ribs
Easy Installation Fiberglass Fuselage
Latest Colorful Scheme Design for Great Visibility
Innovative Quick Calibration System
CNC Metal Rotor Head and Carbon Side Frames
Advanced Herringbone 128T Main Gear V.S. 13T Pinion
One-piece Tail Case with Efficient Helical Bevel Tail Gears
Quick-release Battery Tray Holds Two 6 Cells LiPo Battery Packs
---
We Also Recommend