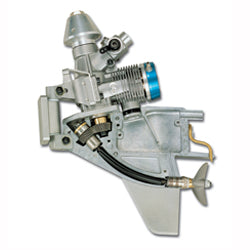 Thunder Tiger Outboard Marine Engine Parts 9567
Specification

| | |
| --- | --- |
| Displacement(c.c. / cu.in.) | 3.46 c.c. / .211 cu.in.  |
| Bore(mm / in.) | 16.6 mm / 0.654 in.  |
| Stroke(mm / in.) | 16.0 mm / 0.630 in.  |
| Practical R.P.M.(R.P.M.) | 3,000 ~ 38,000 rpm  |
| Output(BHP/RPM) | 2.10 BH / 30,000 RPM  |
| Weight(g/oz) | 720 g / 25.39 oz  |
Content
1. PRO-21M-OB engine x 1 EA 2. Carburetor Assembly x 1 EA 3. Allen wrench x 3 EA (2.5mm &2mm &3mm) 4. Instructional manual x 1 EA 5. TT logo sticker x 1 EA
Introduction
The Thunder Tiger Pro-21M-OB Outboard engine features an innovative design bound to greatly increase the popularity of the 3.5cc Tunnel Hull class.
A race-proven powerplant is mated to a lower unit utilizing the best gear ratio and flex-cable technologies. A special set of precision helical gears transfers all the power from the crankshaft to the flex-cable, resulting in substantially reduced cable wear and maintenance, while the integrated expansion chamber / muffler reduces exhaust noise. The engine mount allow adjustments to both propeller depth and angle.
To top it off, a Prather S215 prop is included.
Note
The PRO-21M-OB (No. 9567) is equipped with 1.19:1 gear ratio
---
We Also Recommend